Bearing inspection
High quality inspection, measurement and traceability
Two fully air conditioned inspection rooms contain some of the most up-to-date measuring equipment available. The Mitutoyo Strato CNC co-ordinate measuring machine has a working capacity of up to 750mm diameter. This is a high precision CNC system with an accuracy of 1.2 um and a resolution of 0.1um. Amongst other inspection equipment are the Mitutoyo CV-500 contour tracing machine and the Mitutoyo CS-2000 Surftest surface testing machine and roughness tester.
When manufacturing a precision bearing, full traceability is ensured due to our order processing system. Certificates of Conformity and similar documentation are available upon request.
Contour tracing a bearing track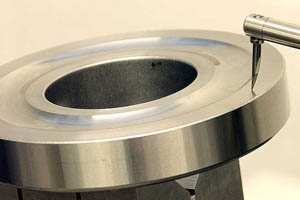 Contour tracing machine. This allows us to check the radii of ball tracks and their position in the bearing as well as many other dimensions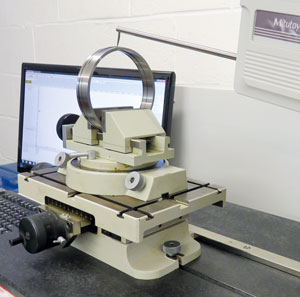 Surface finish testing machine. This enables us to check the surface finish even across a ball track radius
A bearing being measured on the Mitutoyo Strato CNC measuring machine in one of our temperature controlled inspection rooms, part of the inspection process.