Special Bearings
Special Bearing Examples 1
We specialise in manufacturing hard to obtain imperial and metric bearings or obsolete imperial and metric bearings. Shown here are some of the various examples of the different types of special imperial and metric bearings that we have manufactured.

We can also manufacture special obsolete bearings previously manufactured by Hoffmann Bearings, RIV Bearings and Ransome & Marles Bearings (R&M).
SPECIAL BEARINGS RECENTLY MANUFACTURED INCLUDE: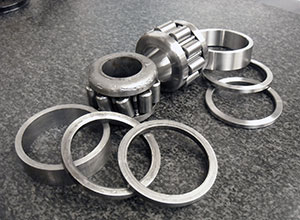 A NEW BEARING, REVERSE ENGINEERED FROM A CUSTOMERS BADLY WORN SAMPLE. FROM AN EARLY VINTAGE MOTOR CAR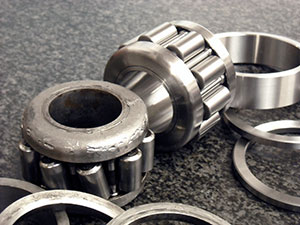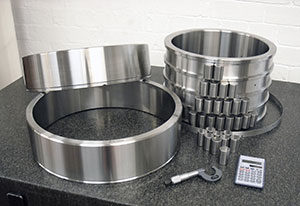 FOUR ROW ROLLER BEARING.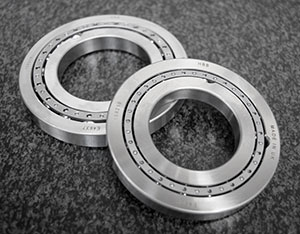 MAXIMUM CAPACITY BESPOKE BALL BEARING WITH LOADING SLOTS.
DIFFERENT BEARING TYPES MANUFACTURED INCLUDE:
ANGULAR CONTACT BEARINGS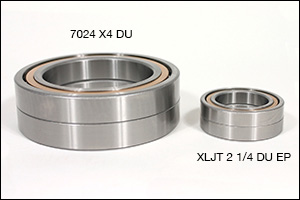 HB Bearings can supply angular contact bearings to all sizes, imperial or metric.
These can be supplied as unpaired singles, paired universally singles or as matched pairs, DF, DB, DT or Universal.
Pairing on these bearings can be to a pre-load, flush or to an axial clearance.
Bearings shown here 7024 X4 DU,
XLJT 2 1/4 DU EP.
45° ANGULAR CONTACT THRUST BEARINGS (top)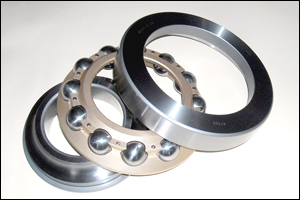 We can manufacture to any required contact angles such as 15 degrees, 20 degrees, and 25 degrees, many precision levels and different materials. Many sizes are held in stock.
FOUR POINT CONTACT (DUPLEX) BALL BEARINGS (
top
)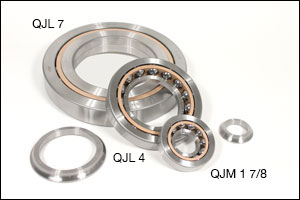 HB Bearings can manufacture all sizes of both imperial and metric duplex ball bearings. Bearings can be made with either split inner race or split outer race.
Bearings shown here QJL 7, QJL 4, QJM 1 5/8".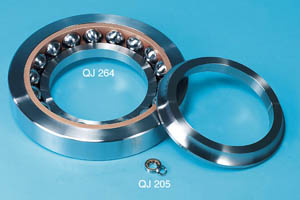 Many hard to source sizes are held in stock.
Types manufactured:
QJ, QJL, QM, QJM, Q300, Q400
Bearings shown here QJ 264,
QJ 205.
BALL AND ROLLER BEARINGS WITH SELF ALIGNING SLEEVES (top)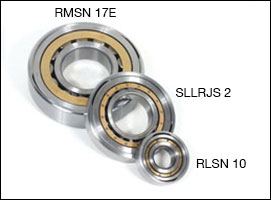 A range of bearings manufactured with self-aligning outers. Available with different lip arrangements.
Standard imperial and metric bearings can be fitted with spherical self-aligning outers.
All sizes can be supplied and many sizes are held in stock or on short delivery.

Bearings shown here RMSN 17E,
SLLRJS 2, RLSN 10.
FLANGED DUPLEX BALL BEARINGS (top)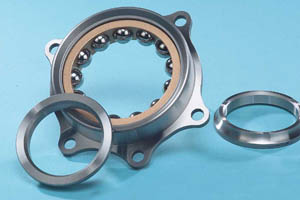 Flanged duplex ball bearing suitable for taking axial load in either direction.
Axial clearance/preload to customers requirements
METRIC ROLLER BEARINGS (top)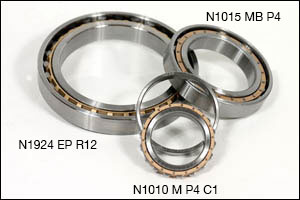 HB Bearings can manufacture metric roller bearings to all sizes and lip arrangements.
We can supply different levels of precision and clearance and other special features.
Some hard to source sizes are held in stock.

Bearings shown here N1924 EP R12,
N1015 MB P4, N1010 M P4 C1
DOUBLE ROW BALL BEARING WITH SPLIT OUTER RACE (top)
FOR ROLLS ROYCE CAR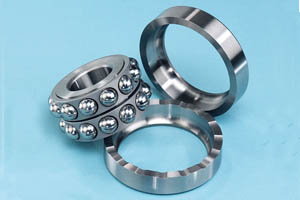 Special double row ball bearing with split outer race for Rolls Royce car.
(top)